Dec 8-17th
Sorry I've been behind in my blogging. Chemo #4 has been a rough one. Side effects have lasted a lot longer than the others. The bone pain from the Nuelasta in my sternum and in my feet lasted much longer than the other times. Also the numbness in my feet always gets worse when I lay down so that really interferes with my sleeping. So thankful that my best friend from high school could come and stay with me. Sure wouldn't have wanted to be alone! She's the best friend ever. She also married one of my best cousins Chuck that use to play in the family band with me when we were kids up until I was about 25 so now she's family! She stayed with me for two weeks while my main caretaker was out of town. Her boss let her work from my house. She flew in from MI.
The first week she was here we didn't do much because I felt so bad. It wasn't until the 2nd week that we actually did a little shopping and walked around the mall and a few other stores a couple times.  Trying to get in the Christmas mood.  Here's a picture of Lisa and I photobombed by Miss Molly my big 80 pound Old English Sheepdog with baby blue eyes.  She always makes me smile!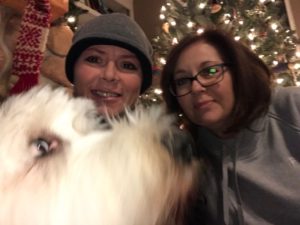 I've been much weaker this chemo round. My legs sometimes just give out on me so I'm learning to move a little slower and safer. Fell down the stairs twice but caught myself before I landed in a bad way. I through my back out for a few days though. Doctor says I can't really work out and honestly haven't felt like it at all so my muscle seems to be disappearing. I can't go to the gym because of all the germs but I have to start doing something. I don't like not having muscle!!
Eating has been very hard and getting harder. I realized the only food I could really eat for dinner that didn't taste awful was shrimp and rice and a bean burrito and rice. No other meats at all or veggies. There were times I had to order a couple meals because I couldn't eat the first meal. You have to have options:(
I hate to waste food but when you can't eat it you can't eat it.
I didn't have much of a stomach issue this time around until the end of the 2nd week after chemo 4 which is odd because that usually happens right away so I was happy about that.
Dec 14
Today I actually started feeling better so I decided to paint my kitchen while Lisa worked in the office. I've said before…I can't stand just sitting or laying around. Once I feel good I have to be doing something and my kitchen has needed painting for a while now so…I painted:)
December 15, 16,
Still painting my kitchen lol.  Took forever to find the right color.  Gray is a hard color to pick.  It can be too blue or too green fyi!!  I'm happy with the results.  When you are trapped inside your home and you have energy….you paint ha ha.
December 17,
Sad today.  I took Lisa to the airport in the AM.  Sure was great to have her here.  I miss my friends and family in MI a lot.  Only a few hours went by and I was back at the airport picking up my caretaker.  So glad she is back home and I won't be alone.   We stopped to eat and I
realized I could eat broccoli soup after Lisa left and that was upsetting because she makes the best and I didn't have her make it for me because I didn't think I could eat it:( I love broccoli and haven't been able to have it until now because it has tasted so bad).  Also realized I could eat a baked potato for the first time since I started chemo.
Dec 18,
Woke up and took my steroids for tomorrows chemo day. My doctor up the date a couple days early in hopes that I would feel better by Christmas. I felt good other than the numbness in my feet. Slept a little bit last night but still not a full night. I wonder if I will ever sleep a full night again. It's been way too long since that's happened.
I feel good today…it's a bummer knowing that tomorrow will bring my health back down again for a couple weeks and it will be over Christmas time:(
My family use to always go driving around and look at Christmas lights. We always decorated the outside of our house growing up and I continued doing so when I bought my homes. I have 10 acres that's fenced in and I usually put lights up on the fencing and the house and things but this year I just didn't have the energy. I put a little bit of lights on my outside bushes and managed to put up my large Nativity set outside but that was about it.
My friends know how much I love to see Christmas light so they surprised me with a limo and a tour of Christmas lights this evening. It was a great time!!!!
I have some pretty great friends!!!! Very thankful for them.
Here's a few pics of what we saw. These home owners really do it up right!!!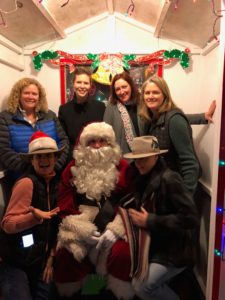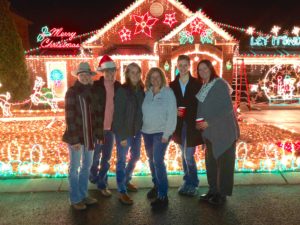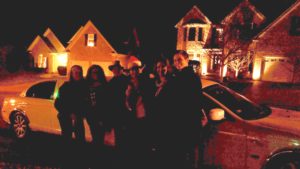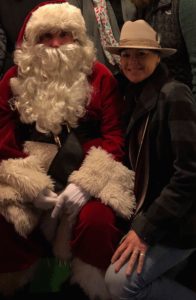 I will say this and I was warned by some others that had cancer that this would happen. I have noticed that some friends and even some family have seemed to pull away from me since I announced I had cancer. But…other friends that I wasn't so close with have really reached out and have been very helpful to me. I'm assuming maybe that those that you are really close with can't handle or accept that you have cancer?? It's been very odd to witness this but I understand it. You also have to realize that your cancer can start to be "old news". This doesn't mean they have stopped caring. My life has drastically changed but theirs hasn't. They still have a job, family and things they need to attend to. Right now for me, my job is to kick cancers butt and sometimes you have to do that alone or quietly. I'm very blessed to know I have people that will be here for me if I need them. I feel so awful for those who are going through this that doesn't have the help from a lot of others. I can't imagine going through this alone. If you know anyone going through chemo or other treatments, offer to go with them to their treatment or cook them a meal or clean their house. No one should go through this kind of sickness alone.
Dec 19
CHEMO #5!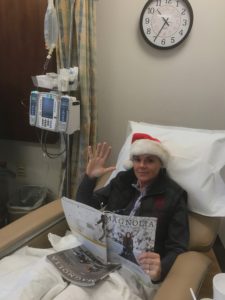 After today, I'll be one chemo away from being done having to do these 4 chemo thank God!!! I pray all goes according to plan. If so, my last chemo treatment will be January 11! That's 23 days away!! I will probably have surgery one month later, still deciding on what surgery to have. If I am able to have a lumpectomy I will have to have 30-35 radiation treatments which is not good for you. And it's ever day, you can't miss a day. I've been told that it can be just as hard on you as chemo for some people. Again…everyone is different so you don't really know how your body is going to react to any cancer treatments. Radiation can also cause cancer. Sometimes quickly but my doctor said it usually will show up 15 to 20 years later. I don't want to go through this again for sure so I'm undecided. I have to meet with my surgeon soon and get all the info I need to make the right decision on what kind of surgery I choose if I'm able to have the option. If I have a mastectomy and the cancer is not in my lymph nodes I would NOT have to have radiation. This of course is a hard decision to make but again…I don't want to go through this again!
Dec 20th,
Sitting back at the doctors office getting fluids this morning. Getting fluids really help me because I can't drink the amount of fluids they want me to at home. Right now my blood pressure is 95/52 which is fairly low so hoping the fluids help me. They usually do. I will have to come back again tomorrow morning for fluids again.
I have another Doctor appointment this afternoon with a doctor who helps cancer patients with nutrition, therapy, coping with cancer things. Wish I could have had this appointment months ago but she was booked up until today. It will still be good for me seeing that I will be dealing with this until after next Oct. That's when I get to stop the one chemo I have to stay on if all goes well and I can get back to my life!! Get my port out and play music again and tour!!!! I miss seeing you guys on the road!
Please do me a favor, I don't think I will be feeling very well on Christmas this year so I want you all to really live it up for me. Have the best Christmas you can with your loved ones and appreciate your health and love for each other and if you would say a prayer for me at your dinner table:) Really appreciate all the prayers you have all given up for me because I know you have! Next Christmas will be a great one for me because I'm believing I will be cancer free!!
Merry Christmas every one who reads this and I hope and pray that 2018 is a much healthier year for all of us!!!  This picture sort of sums up my Christmas thought this year.  Looking for Christmas?  Find it anywhere you can and share it.  My dog found it!  Sweetest picture ever.  This has to make you smile.   MERRY CHRISTMAS EVERYONE!!