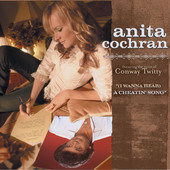 Nashville, Tennesse | June 2004 | Source: Warner Bros. Records
Anita Cochran makes history with her June 28th add date for "(I Wanna Hear) A Cheatin' Song" single featuring the voice of the late Conway Twitty from her forthcoming album God Created Woman. The song is written by Cochran and is produced by Cochran and Jim Ed Norman.
A casual conversation between a number one songwriter/multi-instrumental artist/producer Cochran and producer Norman has resulted in a single that makes musical history.
This is the first recording that creates a new performance from a departed legend. The late legend Conway Twitty's vocal contribution to Cochran's original song is a song he never recorded. His part was painstakingly assembled from work and phrases contained in tracks that the Country Music Hall of Fame member recorded during his 1982-1987 tenure at Warner Bros. Records/Elektra, Cochran's label.
This landmark song's inception came after several conversations about Cochran's direction for her new release. Cochran has always said that since her childhood, hearing a great country song can have such an affect on her. She wanted to make a record about who she is and what is in her heart. Within fifteen minutes after her meeting with Norman, the prolific
tunesmith went home and had "(I Wanna Hear) A Cheatin' Song" finished in thirty minutes.
The two producers called Conway Twitty's widow, Dee Jenkins. She was also the legendary performer's co-producer in the studio and an encyclopedia of knowledge of his recordings. Dee provided Cochran with a master list and lyrics and made invaluable suggestions on where phrasings and words could be found.
Over the next eight months, Cochran poured over every note of more than 50 Conway Twitty songs and wrote down every word or syllable that might be usable for his performance in the song. The result is a bona fide country music smash.
"I couldn't believe it when I heard it," said Dee Jenkins. "I am amazed that they can do this and I LOVE the song." She continued, "I definitely think it's a song Conway would have recorded. It is exactly the kind of lyric that he'd relate to. Conway believed that people identified with songs like this." Conway Twitty's children are in accord as they are big fans of the song and love their father's cameo appearance. "We are thrilled," says Conway Twitty's daughter Joni Jenkins. "When we heard this was happening, we couldn't wait to hear it and to hear Daddy singing again," she added. Cochran might just add to Conway Twitty's list of over 50 number one songs with this amazingly crafted composition. It is also fitting that the song will be shipped to radio on Monday, June 7, just two days after the anniversary of Conway Twitty's untimely death on June 5, 1993.
The moral of the story is stay true to your dreams. Both Norman and Cochran's heroes are Conway Twitty and Loretta Lynn. Their first professional appearances as musicians shared the stage these artists respectively. A true country song is a timeless piece. When you add a historical recording that might truly be one of the best vocal events into the equation, a dream can become reality.